Welcome to the Samurai Pizza Cats Wiki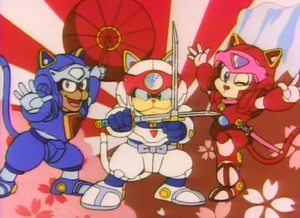 Samurai Pizza Cats was originally made by Tatsunoko Productions in Japan as "Kyattou Ninden Teyandee". Saban bought the rights to translate the show, and has made English, French, German, Spanish, Italian and Hebrew dubs. The dubbed version, "Samurai Pizza Cats" was produced by Andy Thomas.
The stars of the show are three anthropomorphic cats who protect the city of Little Tokyo from crime while making a living running a pizzeria
173 articles and growing
Pizza Cats
Pizza Cats Weapons
More about Pizza Cats
Other Good Guys
Community content is available under
CC-BY-SA
unless otherwise noted.